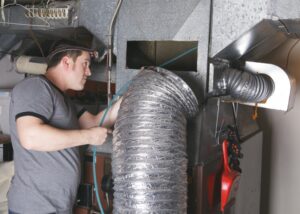 It's been around fifty years since the majority of new homes started to be constructed with ductwork for central air conditioning. Some homes that age still have that original ductwork! Even when ductwork isn't half a century old, it can be a little mysterious. You can't see inside of it, and even the outsides of the ducts are usually tucked in out-of-the-way places you don't look at very often. How can you tell what's going on in your ductwork? With a little help from a duct cleaning service, you can get a clear view and a fresh start.
What Is Duct Cleaning?
It would be a terrible idea to reach into a vent and start whacking around with a broom or scrub brush. Trained, qualified technicians can inspect your ducts, determine which tools and cleaning techniques are safest for the type of ductwork your home has, and thoroughly remove any mess they find in there. If you did it yourself, it would be far too easy to cause damage, and ductwork with cracks and holes can cause all kinds of problems, especially inefficient cooling and heating.
When Is Duct Cleaning Necessary?
If you've never had a professional take a look at your ducts, it's a good idea regardless. But there are certain situations when you should absolutely schedule duct cleaning.
Excess Dust: If the air blowing out of your ducts is particularly full of dust, a cleaning could resolve your problem. Excess dust can also be caused when air from places like your attic, full of particles like insulation fibers, is pulled into the ducts through cracks or holes. While your technician is cleaning your ducts, they can check for damaged areas as well.
Mold: If you smell mildew but don't see mold, it's lurking somewhere out of sight, and that somewhere just might be your ducts. If moisture pools in there, it makes an ideal environment for mold growth.
Pests: If you suspect that some uninvited houseguests have visited your ductwork, it's definitely time for duct cleaning in Hibbing, MN. If you have pests, there may be signs such as dead bugs or rodent droppings that you can see if you peer in the vents, sounds coming from your ducts, and unpleasant smells that might remind you of a trash can, a litter box, or a hamster cage in dire need of cleaning.
Illness: If you or a family member has an increase in or onset of respiratory symptoms, allergic reactions, or asthma attacks, it's possible that something in your ductwork such as mold or pollen is contributing.
Choosing a Reliable Duct Cleaning Service
Not every company who is willing to clean your ducts is equally qualified. It's important to choose a company you can rely on. At Mesaba Heating & Air, we've been providing quality service to homeowners for over three decades, and we're proud of the reputation we've built. Safety and customer satisfaction are our highest priorities, and our technicians are highly trained and properly insured.

Reach out to Mesaba Heating & Air Conditioning today. Service to you is success to us!