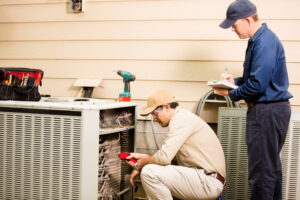 The day has finally come. Your air conditioner can't do the job it's supposed to anymore. Maybe it's been a slow decline full of costly repairs or maybe your air conditioner just gave out one day. In either scenario, you're now faced with the long summer ahead and a sea of air conditioning options before you. The idea of purchasing a new air conditioner can be quite overwhelming. This doesn't even mention the installation! What can you do to make it easier?
We don't believe in cutting corners on our team. This is why we make sure that all our technicians are well-versed and highly trained in HVAC services. Today, we want to take a moment to give you all the best information to make your AC installation in Grand Rapids, MN as fast, easy, and affordable as it possibly can be. We're experts who make an effort to pay our knowledge forward.
A New AC Installation Guide
Here's a quick guide you can keep in mind during your new AC installation process.
Know Your Options
It's important to know all your options. We're no psychics, but we'd bet that you currently have a central air conditioner at home. Did we get this right? If we did, it's not by luck. It's because the vast majority of homeowners in Grand Rapids and across the country choose a central air conditioner to cool their homes.
While central air conditioners are a great option, they're not the only option you have when it comes to cooling. If you've had temperature imbalances in your home since day one, we suggest trying another type of cooling system. Some of the ones we offer include ductless systems and heat pumps. 
Consider Your Current Comfort
It's wise to take inventory of your comfort now. Ask yourself the following questions:
Is it easy to get cool?
Are your air conditioning bills often affordable?
Do you notice extreme temperature imbalances?
How long does it take your home to cool off after you turn the AC on?
How often do you have to repair your air conditioner?
All these questions are important to have an answer to. It's will help inform you and choose the right new system for installation.
Remember Your Air Conditioner Is Part of an Ecosystem
Your air conditioner doesn't just do its job alone and it's important to remember this. Your air conditioner is part of an ecosystem that often includes a network of ducts (as long as you're not running a ductless mini split) and a thermostat. It's important to have the best of both. If you're looking to improve your ductwork, we can provide you with the best indoor air quality services, and if you need a thermostat, then we can point you to the best Wi-Fi and smart thermostat models. 
Have the Best Team by Your Side
You need a team of professionals to install your new air conditioner and we can be the ones to do it. Our professionals are highly skilled and trained. We only send the best of the best out to your home. Your safety and satisfaction are our top priority.
Contact Mesaba Heating & Air Conditioning today to schedule an appointment with our professionals. Service to You, Is Success to Us!