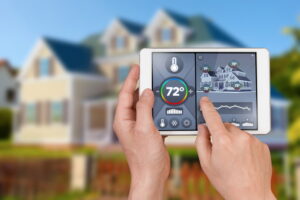 The investment into a new thermostat may help to reduce your overall energy consumption while also making it easier to keep your home comfortable. Even if your existing model seems to be working just fine, there are some real benefits to making the move, especially to a smart thermostat.
If you are considering the use of Wi-Fi and smart thermostats in Hibbing, MN, there are a few careful considerations to keep in mind. Many property owners will find these to be an exceptional investment.
How Do They Benefit You?
The use of Wi-Fi or smart thermostats allows you to have control over your thermostat from a distance. Most are designed to operate through a smartphone app, though some offer online portals as well. You just log into your account, and you can adjust your thermostat from any location. Why do this?
Save Money on Energy Costs
These systems can help to reduce energy costs. Using a thermostat like this allows you to make adjustments to your home's heating and cooling from a distance. Some will automatically adjust based on the time of the day, such as reducing energy consumption when you are away or when you are sleeping. Smart thermostats may also help by analyzing your heating and cooling usage over a period of time. That way, it can develop ways to operate without wasting energy.
Look for those that specifically aim to reduce energy costs. They could help you to keep your home comfortable while reducing the overall cost of cooling or heating your home. Different thermostats have different energy efficiency abilities. Compare a few to find those best suited for your needs.
Maintenance Reminders
Smart thermostats also can help to remind you that you need to change the air filters or have an annual checkup scheduled for your home's heating or cooling system. They can send you a reminder right to your phone in some situations. That way, you have a way to keep up with your system's needs.
Adjust Them As Weather Changes
Perhaps the day started out very cold, but now that you are on your way home from work, it is quite hot outside. You can log into the smart thermostat's app and make adjustments to the temperature or function of it to match changes in weather patterns. You can program some of them to update based on temperatures outside as well.
If you just want your home to be comfortable and you do not want to spend a lot of money to do it, turn to a technician who can help you upgrade to a smart thermostat. It is easier to do, and the benefits are easy to see (and feel) right away in many homes.
Contact Mesaba Heating & Air Conditioning today to schedule an appointment with our professionals. Service to You, Is Success to Us!